I've noted the lack of awards for kink, fetish and BDSM at AVN in the past. I think the last time, in 2013, there were only 3 vaguely relevant awards. This year, based on this list of winners, they're now down to one. That's the very generic 'Best BDSM movie'. They don't even break out separate awards for maledom and femdom. I doubt it'll surprise anyone to learn that for the last three years that award has gone to a maledom movie.
Breaking out every kinky niche into an award would probably be unmanageable, but I'd have thought top level awards for best male/female top/bottom would at least have been considered. It is after all a very challenging job. Regular porn stars will often tell interviewers how hard it is to have sex in odd positions on unusual furniture when surrounded by a film crew. BDSM performers have to handle all that, plus whips, gags, ropes, canes, crops, chains, cattle prods, nipple clamps, needles, hoods and anal probes. Although hopefully not all at the same time. When a regular porn performer has an uncomfortable position that's an unfortunate side-effect of getting the right shot. When a BDSM performer has an uncomfortable positions that's often the goal of the shot.
Here's an image of Mika Tan and Danny Wylde earning their money for Men In Pain. He's either very good at acting or that hurts quite a lot.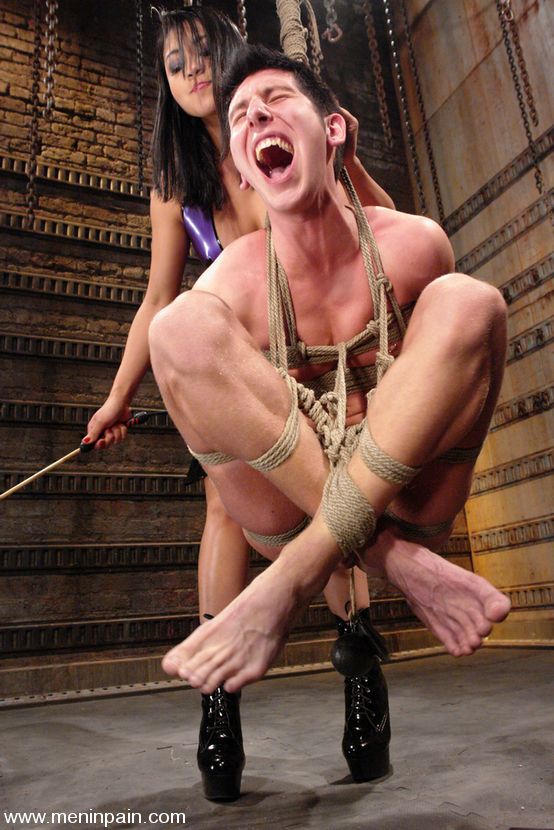 Source: Femdom-Resource.com